Home » Genetics Basics
Key Terms
Key molecules: DNA, RNA and protein
Key concepts:
Gene
the central dogma
Genetic code
Gene transmission
Chromosome
Building units
DNA

A, Adenine
T, Thymidine
G, Guanine
C, Cytosine

RNA

A, Adenine
U, Uracil
G, Guanine
C, Cytosine

Protein

         20 Amino Acids
DNA
Is the cellular genetic material
Made up from deoxyribose-phosphate and 4 bases
Contains two strands based on base pairing between A and T, C and G.
The two strands are anti-parallel and form double helix structure
Highly organized in cells (final form: chromosome)
One Chromosome contains one DNA molecule
One chromosome contains many genes
One gene is defined as one functional section of DNA
Genes (DNA) only carry genetic information, which needs to be processed into RNA or protein to perform its biological function
RNA
A molecule made of a stretch of bases on a sugar-phosphate backbone
Sugar is ribose instead of dexoyribose in DNA
Bases are AUCG instead of ATCG in DNA
Smaller molecules
Single-stranded
mRNA:  Copies information from DNA through base-paring mechanism and serves as an messenger from DNA to protein
tRNA: carries amino acid to protein synthesis place
rRNA: component for ribosome
ncRNA: regulate cellular processes
Various functions:

Making protein
Regulate cellular process
Component for certain cellular structure
Protein
Made out of 20 amino acids
Encoded by genes, one gene, one protein.
Required for all cellular process
The Central Dogma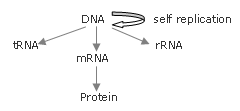 The Genetic Code
mRNA is read from an initiation codon
Triplet code: every three bases encode one amino acid or a stop codon
One amino acid can be encoded by multiple codons
The base sequence is read consecutively
Gene Transmission
DNA is self-replicated



Duplicated DNA is packed into duplicated chromosomes



Duplicated chromosome segregate evenly into two chromosomes



Cell is divided into two, each containing one set of crhomosomes
Mutations and Genetic Disease
Mutations:  changes in DNA sequence, i.e., insertion/deletion.
 Causes: 

errors during DNA replication
DNA damage
Chromosome errors

Consequence:  malfunctioned gene product
Phenotype:

somatic mutation: non-inheritable disease
Germ line mutation: genetic disease
Gene Therapy
Genetic disease can be corrected by introducing a functional copy of gene into the affected tissues.