Home » MicroBiology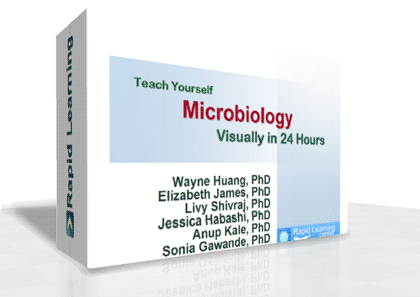 The entire rapid e-learning package includes:
24 Core Concept Tutorials (Flash Movies)
Concept maps, easy introduction to the topic, concept illustration with annotations and animations, sample problems exlained with step-wise strategies and topic summary.

24 Problem-Solving Drills (Flash Games)
Feedback based Quizzes, concept-based problems, summary reviews on all problems and scoring system to track performance.

24 Super Review Cheat Sheets (PDF Printables)
One cheat sheet per topic, key concepts in a single-sheet, at-a-glance review of each topic and both printable and luminatable. Ideal for exam prep quick review.
Bonus:
One year unlimited 24/7 access anytime anywhere
Master Cheat Sheet – The core concepts of the entire course in 12 pages
Free Preview:
To preview the core tutorial, problem drill and cheat sheet on this Microbiology 24-hour visual series, click the link below to get instance access.

Free Access to the Preview Area

---
Microbiology Core - Tutorial Series
This series provide simple yet easy-to-understand tutorials in flash movies for core concepts in microbiology – the ones that are fundamental yet difficult to master.
Core Unit #1 – The Fundamentals of Microbiology
Core Unit #2 – Microorganisms
Core Unit #3 – Microorganisms and Humans
Core Unit #4 – Medical Microbiology
Core Unit #5 – Microbiology outside the Human Body